Mazda 3 Service Manual: Afs (Adaptive Front Lighting System) Off Switch Inspection
1. Disconnect the negative battery cable..
2. Remove the AFS OFF switch..
3. Verify that the continuity between the AFS OFF switch terminals is as indicated in the table.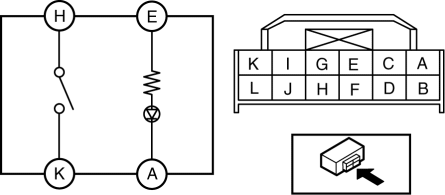 4. Apply battery positive voltage to AFS OFF switch terminal E, and connect terminal A to ground.
5. Verify that the LED illuminates.