Mazda 3 Service Manual: Combination Switch Disassembly/Assembly
CAUTION:
Handling the air bag module improperly can accidentally deploy the air bag module, which may seriously injure you. Read the air bag system service warnings and cautions before handling the air bag module..
1. Switch the ignition to off.
2. Disconnect the negative battery cable and wait for 1 min or more.
.
3. Remove the following parts:
a. Driver-side air bag module.
b. Steering wheel.
c. Column cover.
d. Clock spring.
e. Combination switch.
4. Remove the screws shown in the figures, then pull the light switch, and the wiper and washer switch in the direction of the arrow respectively to remove them.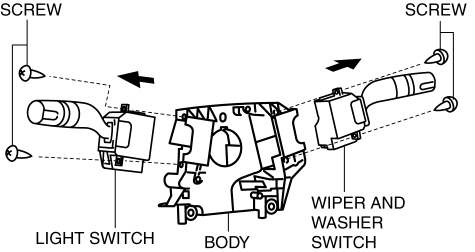 5. Assemble in the reverse order of disassembly.