Mazda 3 Service Manual: Dashboard Removal/Installation
1. Set the air intake mode to FRESH.
2. Set the air mix mode to MAX COLD.
3. Disconnect the negative battery cable..
4. Remove the following parts:
a. Front doors.
b. Front scuff plate.
c. Front side trim.
d. Dashboard under cover.
e. Glove compartment.
f. Upper panel.
g. Shift lever knob (MTX).
h. Selector lever knob (ATX).
i. Shift panel.
j. Side wall.
k. Console.
l. Shift lever component (MTX).
m. Selector lever component (ATX).
n. Hood release lever.
o. Lower panel.
p. Knee bolster.
q. Driver-side air bag module.
r. Steering wheel.
s. Column cover.
t. Combination switch.
u. Joint cover.
v. Steering shaft.
w. Center panel.
x. Audio unit.
y. Climate control unit.
z. Instrument cluster.
aa. Center cover.
ab. Dashboard upper panel.
ac. Hole cover.
ad. Information display.
ae. A-pillar trim.
af. Windshield wiper arm and blade.
ag. Front fender molding.
ah. Cowl grille.
ai. Windshield wiper motor.
5. Disconnect The blower motor connector..
6. Disconnect the dashboard harness connectors.
7. Remove the shower duct..
8. Remove the heater case..
9. Remove the nuts A.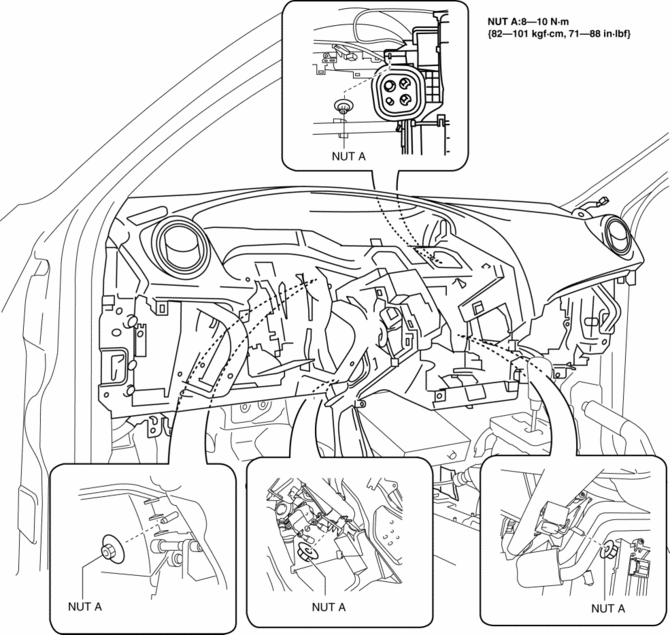 10. Remove the bolts B.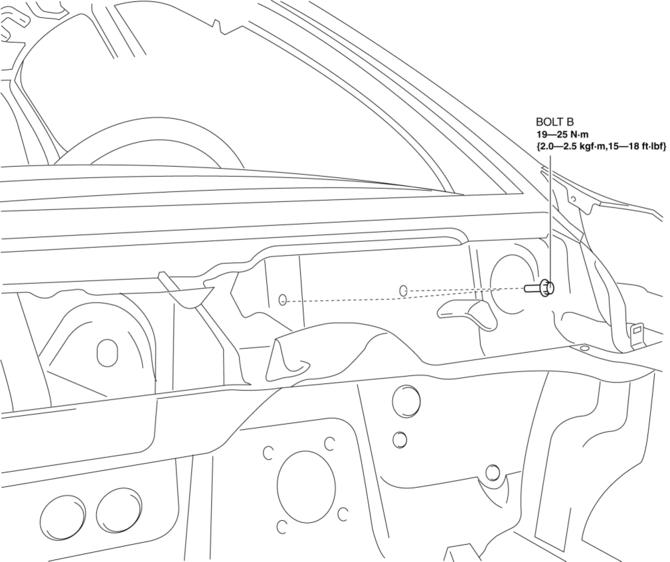 11. Remove the caps then set the rolled paper.
12. Remove the bolts C.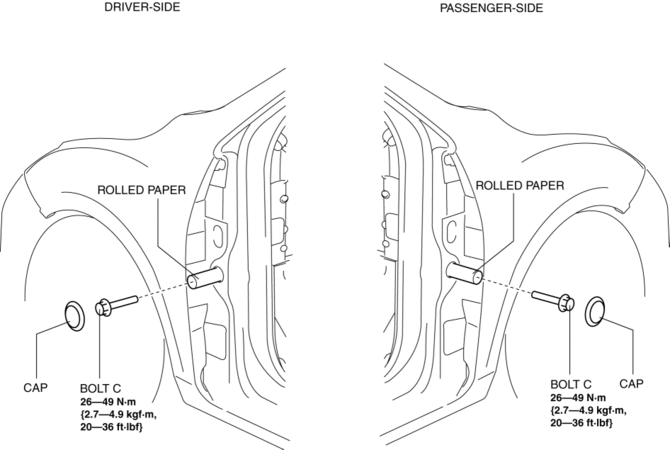 13. Remove the nuts D and bolts E then remove the dashboard bracket.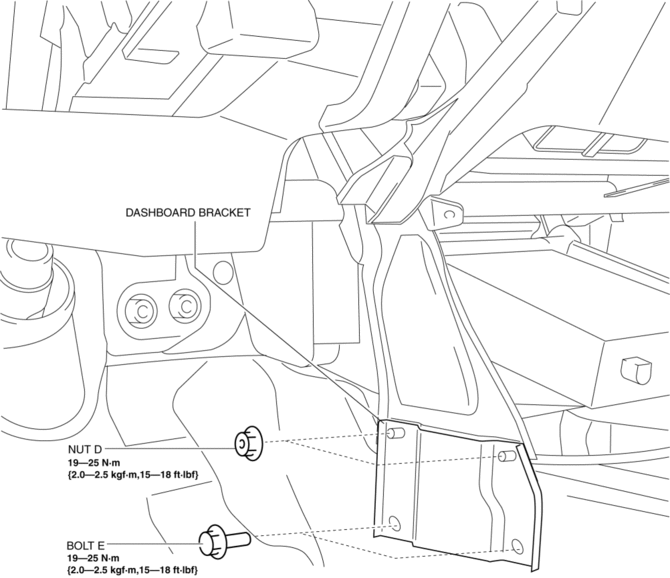 14. Remove the bolts F..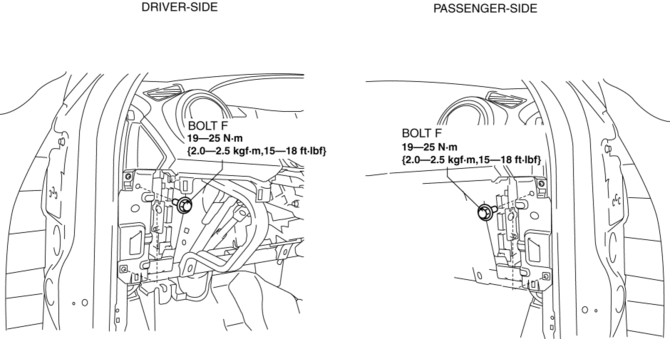 15. Raise the back side of the dashboard rotate it in the direction of the arrow shown in the figure.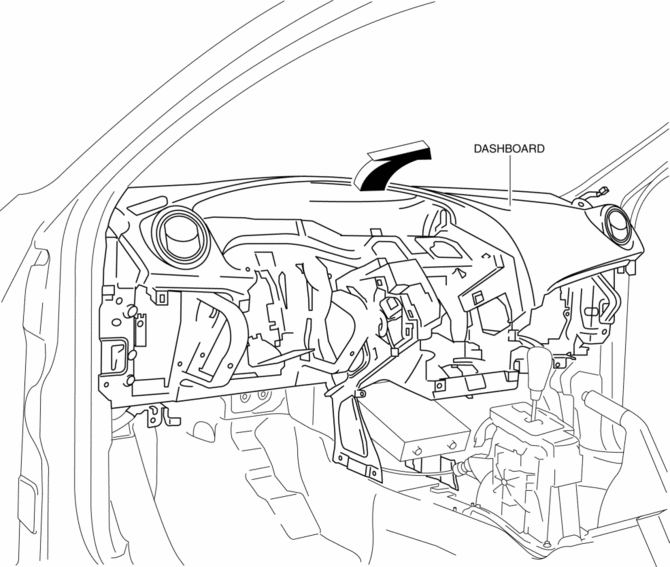 WARNING:
16. Remove the dashboard.
17. Take the dashboard off from the front driver-side door opening.
18. Install in the reverse order of removal.
Bolt F Installation Note
1. Fit the service hole of dashboard and hinge pillar inner shown in the figure.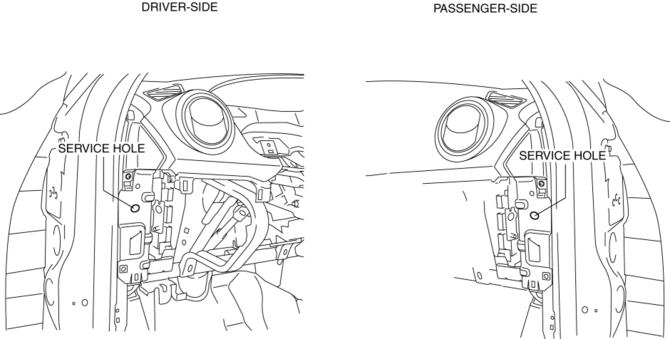 2. Partially tighten the bolts F in the order (1), (2), (3), (4) shown in the figure.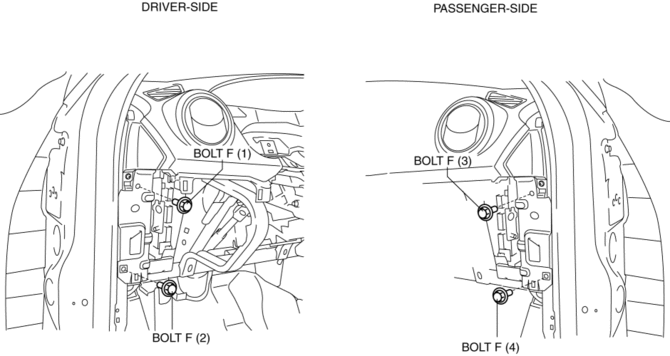 3. Reconfirms fit the service hole of dashboard and hinge pillar inner, then tighten the upper side bolt F.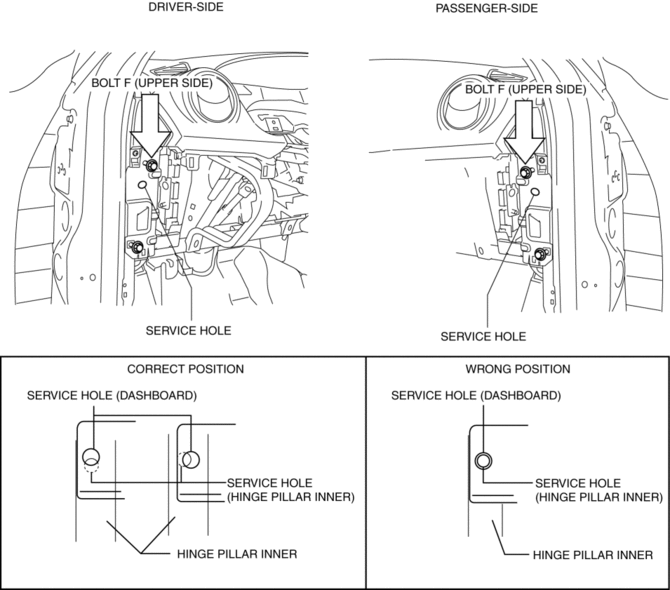 4. Tighten the all of bolts F.