Mazda 3 Owners Manual: Manual Transaxle Shift Pattern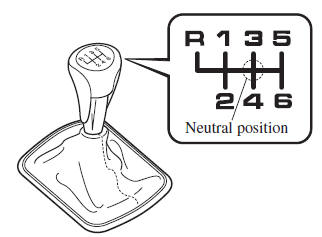 The shift pattern of the transaxle is conventional, as shown.
Depress the clutch pedal all the way down while shifting; then release it slowly.
Your vehicle is equipped with a device to prevent shifting to R (reverse) by mistake.
Push the shift lever downward and shift to R.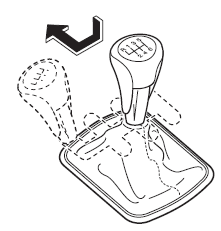 WARNING Do not use sudden engine braking on slippery road surfaces or at high speeds: Shifting down while driving on wet, snowy, or frozen roads, or while driving at high speeds causes sudden engine braking, which is dangerous. The sudden change in tire speed could cause the tires to skid. This could lead to loss of vehicle control and an accident.

Always leave the shift lever in 1 or R position and set the parking brake when leaving the vehicle unattended: Otherwise the vehicle could move and cause an accident.
CAUTION
NOTE
(For vehicles with type C instrument cluster *1 )
If the engine speed is about to exceed the permissible engine speed, the buzzer sounds.
Refer to Over Rev. Buzzer on .

*1 To determine which instrument cluster is equipped on your Mazda, Refer to Meters and Gauges on .
If shifting to R is difficult, shift back into neutral, release the clutch pedal, and try again.