Mazda 3 Owners Manual: Operational Range
The system operates only when the driver is in the vehicle or within operational range while the key is being carried.
Starting the Engine
NOTE
Starting the engine may be possible even if the key is outside of the vehicle and extremely close to a door and window, however, always start the engine from the driver's seat.
If the vehicle is started and the key is not in the vehicle, the vehicle will not restart after it is shut off and the ignition is switched to off.
The luggage compartment/trunk is out of the assured operational range, however, if the key (transmitter) is operable the engine will start.
With the advanced keyless function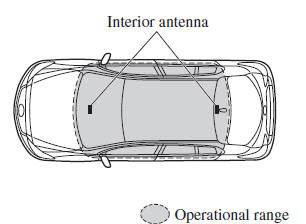 Without the advanced keyless function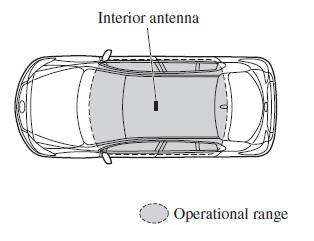 NOTE The engine may not start if the key is placed in the following areas:
Around the dashboard
In the storage compartments such as the glove compartment
On the rear parcel shelf (4–door)
Key Suspend Function
If a key is left in the vehicle, the functions of the key left in the vehicle are temporarily suspended to prevent theft of the vehicle.
To restore the functions, press the unlock button on the functions-suspended key in the vehicle.