Mazda 3 Service Manual: Door Sash Film Removal
1. Disconnect the negative battery cable.
2. Partially peel back the glass run channel.
3. Partially peel back the door weatherstrip.
4. Remove the following parts:
a. Inner garnish.
b. Front door trim.
c. Power outer mirror.
d. Rear door trim.
e. Rear door speaker.
f. Rear door quarter glass.
g. Front beltline molding.
h. Rear beltline molding.
5. Peel off the rear sash film by pulling it outward from one end.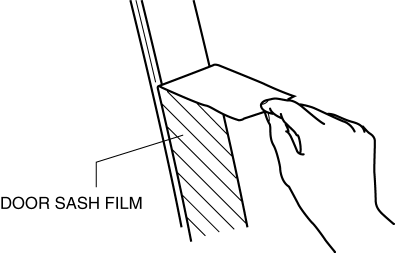 NOTE: