Mazda 3 Service Manual: Front Drain Hose Removal
1. Set the air intake mode to FRESH.
2. Set the air mix mode to MAX COLD.
3. Disconnect the negative battery cable.
4. Remove the rain sensor cover. (Vehicles with auto light / wiper system).
5. Disconnect the rain sensor connector. (Vehicles with auto light / wiper system)
6. Partially peel back the seaming welt.
7. Remove the following parts:
a. Front doors.
b. Front scuff plate.
c. Front side trim.
d. Dashboard under cover.
e. Glove compartment.
f. Upper panel.
g. Shift lever knob (MTX).
h. Selector lever knob (ATX).
i. Shift panel.
j. Side wall.
k. Console.
l. Shift lever component (MTX).
m. Selector lever component (ATX).
n. Hood release lever from the lower panel.
o. Lower panel.
p. Knee bolster.
q. Driver-side air bag module.
r. Steering wheel.
s. Column cover.
t. Combination switch.
u. Joint cover.
v. Steering shaft.
w. Center panel.
x. Audio unit.
y. Climate control unit.
z. Instrument cluster.
aa. Center cover.
ab. Dashboard upper panel.
ac. Hole cover.
ad. Information display (with information display).
ae. multi information display (with multi information display).
af. A-pillar trim.
ag. Windshield wiper arm and blade.
ah. Front fender molding.
ai. Cowl grille.
aj. Windshield wiper motor.
ak. Dashboard.
al. Sunroof seaming welt
am. Rear scuff plate.
an. B-pillar lower trim.
ao. Upper anchor of the front seat belt.
ap. B-pillar upper trim.
aq. Rear seat cushion.
ar. Tire house trim.
as. Trunk side upper trim (5HB).
at. C-pillar trim.
au. Map light.
av. Sunvisor.
aw. Assist handle.
ax. Headliner.
8. Disconnect the auto-dimming mirror connector. (vehicles with auto-dimming mirror)
9. Disconnect the roof harness connector, remove the clip, and remove the connector.
10. Disconnect the front drain hose from the sunroof frame.
11. Remove the front drain hose from the clips.
12. Pull the front drain hose into the room side.
13. Remove the front drain hose.
LH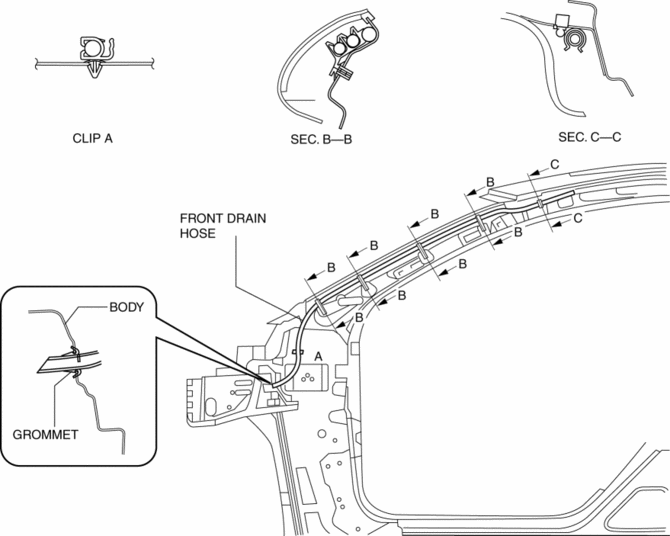 RH