Mazda 3 Service Manual: Coolant Reserve Tank Removal/Installation [Mzr 2.0, Mzr 2.5]
WARNING:
Never remove the cooling system cap or loosen the radiator drain plug while the engine is running, or when the engine and radiator are hot. Scalding engine coolant and steam may shoot out and cause serious injury. It may also damage the engine and cooling system.

Turn off the engine and wait until it is cool. Even then, be very careful when removing the cap. Wrap a thick cloth around it and slowly turn it counterclockwise 2.5 turns. Step back while the pressure escapes.

When you are sure all the pressure is gone, turn the cap using the cloth, and remove it.
1. Drain the engine coolant until the coolant reserve tank becomes empty..
2. Remove in the order indicated in the table.
3. Install in the reverse order of removal.
4. Refill the engine coolant..
5. Inspect for engine coolant leakage..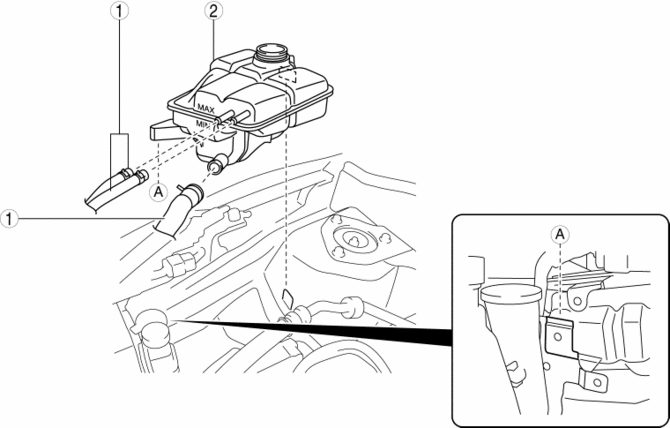 | | |
| --- | --- |
| 1 | Hose |
| 2 | Coolant reserve tank |