Mazda 3 Service Manual: Buckle Switch Inspection
Driver Side
1. Switch the ignition to off.
2. Disconnect the negative battery cable..
3. Remove the front seat..
4. Remove the front buckle..
5. Inspect for continuity between the buckle switch terminals using a tester.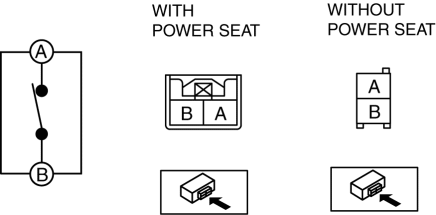 Passenger Side
1. Connect the M-MDS (IDS) to the DLC-2.
2. After the vehicle is identified, select the following items from the initialization screen of the IDS.
a. Select "DataLogger".
b. Select "Modules".
c. Select "RCM".
3. Verify that it is displayed according to the table using "BUCKLE_P".
M-MDS display

Operation Status

Unbuckled

Passenger-side front seat belt not fastened

Buckled

Passenger-side front seat belt fastened