Mazda 3 Service Manual: DSC Sensor Initialization Procedure
WARNING:
If the DSC sensor initialization procedure is not completed, the DSC will not operate properly and it might cause an unexpected accident. Therefore, after replacing or removing the DSC HU/CM or SAS control module, make sure to perform the DSC sensor initialization procedure to insure proper DSC operation.
1. Inspect the wheel alignment and the tire pressure.
2. Position the vehicle on level ground.
3. Switch the ignition to off.
4. Connect the M-MDS (IDS) to DLC-2.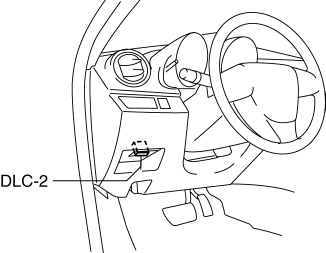 5. After the vehicle is identified, select the following items from the initial screen of the IDS.
6. Perform the procedure according to the directions on the screen.
7. Drive the vehicle.
8. After 5 min or more
of driving, verify that the DSC system is normal.