Mazda 3 Service Manual: Fuel Pump Unit Removal/Installation [Mzr 2.0, Mzr 2.5]
WARNING:
Fuel is very flammable liquid. If fuel spills or leaks from the pressurized fuel system, it will cause serious injury or death and facility breakage. Fuel can also irritate skin and eyes. To prevent this, always complete the "Fuel Line Safety Procedure", while referring to "BEFORE SERVICE PRECAUTION".

A person charged with static electricity could cause a fire or explosion, resulting in death or serious injury. Before draining fuel, make sure to discharge static electricity by touching the vehicle body.
1. Complete the "BEFORE SERVICE PRECAUTION"..
2. Remove the battery cover..
3. Disconnect the negative battery cable..
4. Remove the rear seat cushion..
5. Remove the service hole cover.
6. Disconnect the fuel pump unit connector.
7. Disconnect the joint hose of fuel-filler pipe side.
8. Disconnect the breather hose of fuel-filler pipe side.
9. Remove the following parts as a single unit.
Fuel tank

Joint hose

Breather hose

Fuel pump unit

Fuel hose
10. Remove the order indicated in the table.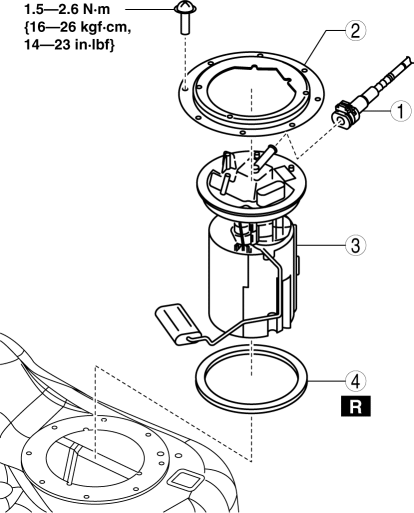 1

Quick release connector

(See QUICK RELEASE CONNECTOR REMOVAL/INSTALLATION [MZR 2.0, MZR 2.5].)

2

Set plate

3

Fuel pump unit

4

O-ring
11. Install in the reverse order of removal.
12. Complete the "AFTER SERVICE PRECAUTION"..