Mazda 3 Service Manual: Headlight Leveling Actuator Inspection
NOTE:
Headlight leveling actuator are integrated with the front combination light.

For the actuator inspection of the headlight auto leveling system, perform the headlight leveling actuator operation inspection..
1. Measure the voltage at each terminal is as indicated in the Terminal Voltage Lists.
Terminal Voltage List (Reference)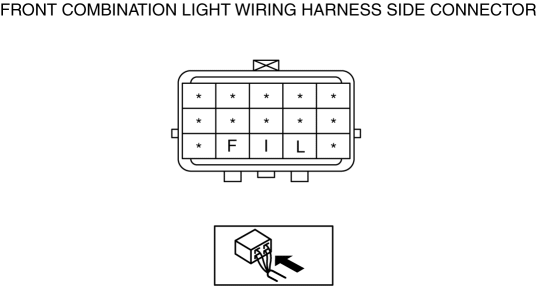 Terminal

Signal

Connection

Test condition

Voltage (V)/Continuity

Action

F

Headlight leveling actuator signal

Headlight leveling switch

Light switch at HEAD position

Switch position 0 position

approx. 10.5

Headlight leveling switch

(See HEADLIGHT LEVELING SWITCH INSPECTION.)

Related wiring harness

Switch position 1 position

approx. 9.2

Switch position 2 position

approx. 6.2

Switch position 3 position

approx. 4.9

I

Headlight leveling actuator power supply

Headlight relay (LO)

Light switch at HEAD position

B+

Light switch at OFF position

1.0 or less

L

GND

Headlight leveling switch

Body ground

Under any condition

1.0 or less

Headlight leveling switch

(See HEADLIGHT LEVELING SWITCH INSPECTION.)

Related wiring harness