Mazda 3 Service Manual: Power Brake Unit Removal/Installation [Mzr 2.3 Disi Turbo]
CAUTION:
Once the brake switch clearance has automatically been adjusted, it cannot be adjusted again. Therefore, replace the switch with a new one when replacing the power brake unit or performing any procedure that changes the pedal stroke.

Secure the steering wheel using tape or a cable to prevent the steering shaft from rotating after disconnecting the steering shaft. If the steering wheel rotates after the steering shaft and the steering gear and linkage are disconnected, the internal parts of the clock spring could be damaged.
1. Remove the battery and battery tray..
2. Remove the master cylinder..
3. Loosen the brake pipe flare nuts as shown in the figure.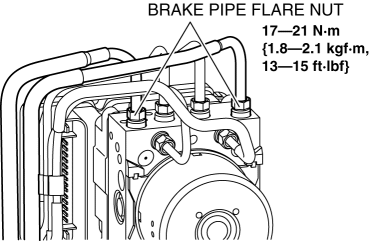 4. Move the brake pipes as shown in the figure.
5. Disconnect the steering shaft from the steering gear and linkage..
6. Remove in the order indicated in the table.
7. Remove the brake switch..
8. Install in the reverse order of removal.
9. After installation, inspect the brake pedal..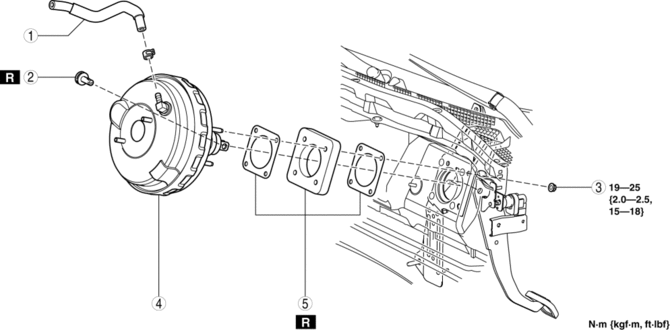 1

Vacuum hose

2

Joint pin

(See BRAKE PEDAL REMOVAL/INSTALLATION.)

3

Nut

4

Power brake unit

5

Gasket