Mazda 3 Service Manual: Sunroof Motor Removal/Installation
1. Disconnect the negative battery cable..
2. Remove the rain sensor cover. (Vehicles with auto light/wiper system).
3. Disconnect the rain sensor connector. (Vehicles with auto light/wiper system)
4. Partially peel back the seaming welts.
5. Remove the following parts:
a. Sunroof seaming welt
b. A-pillar trim.
c. Front scuff plate.
d. Rear scuff plate.
e. B-pillar lower trim.
f. Upper anchor of the front seat belt.
g. B-pillar upper trim.
h. Rear seat cushion.
i. Tire house trim.
j. Trunk side upper trim (5HB).
k. C-pillar trim.
l. Map light.
m. Sunvisor.
n. Assist handle.
o. Headliner.
6. Disconnect the sunroof motor connector.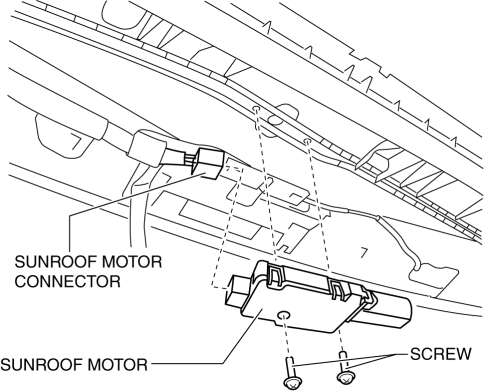 7. Remove the screws, and then remove the sunroof motor.
8. Install in the reverse order of removal.
NOTE:
If the glass panel or the sunroof motor is moved with the sunroof motor removed, initial position setting of the sunroof motor will be required. Perform initial position setting referring to the Sunroof Motor Assembly Note..