Mazda 3 Service Manual: Windshield Wiper Motor Inspection
1. Disconnect the negative battery cable..
2. Remove the following parts:
a. Windshield wiper arm and blade.
b. Front fender molding.
c. Cowl grille.
d. Center cowl grille No.1, No.2
3. Disconnect windshield wiper motor connector.
4. Connect the battery positive voltage to windshield wiper motor terminal A or B, connect terminal C to the ground, then verify the windshield wiper operation.
5. Verify that the windshield wiper operates as indicated in the following table.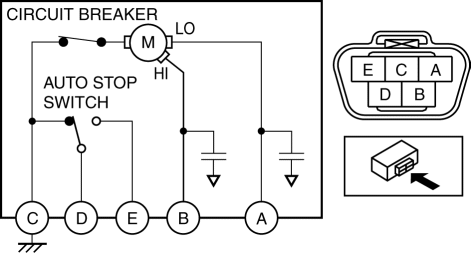 Terminal connected to battery positive voltage

Operation condition

A

LO

B

HI
6. Disconnect battery positive voltage from terminal A or B during wiper operation.
7. Verify that the wipers do not stop in auto stop condition.
8. Connect windshield wiper motor terminals A and D, and apply battery positive voltage to terminal E.
9. Verify that the windshield wipers operate at low speed again and they are at the auto stop position.