Mazda 3 Service Manual: Rear Wiper Motor Inspection
1. Disconnect the negative battery cable..
2. Remove the following parts:
a. Rear wiper arm and blade.
b. Liftgate upper trim.
c. Liftgate side trim.
d. Liftgate lower trim.
3. Disconnect the rear wiper motor connector.
4. Apply battery positive voltage to rear wiper motor connector terminal B, and connect terminals A and C to the ground.
5. Verify that the rear wiper motor operates.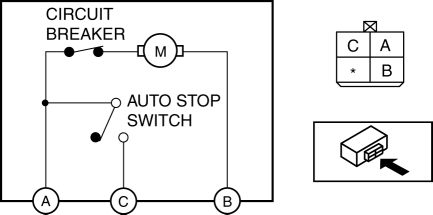 6. Disconnect the ground to the terminal A while the rear wiper is operating.
7. Verify that the rear wiper stops in the auto stop position.