Mazda 3 Service Manual: Wheel Alignment Pre Inspection
1. Park the vehicle on a level ground, in an unloaded condition*, and with the wheels straight forward.
*: Unloaded condition.....Fuel tank is full. Engine coolant and engine oil are at specified level. Spare tire, jack and tools are in designated position.
2. Inspect the tire pressure.
3. Inspect the wheel bearing play.
4. Inspect the wheel runout.
5. Rock the vehicle, and verify that there is no looseness in the steering wheel joint and suspension ball joint.
6. Rock the vehicle, and verify that the shock absorber operates properly.
7. Measure height H from the center of the wheel to the fender brim.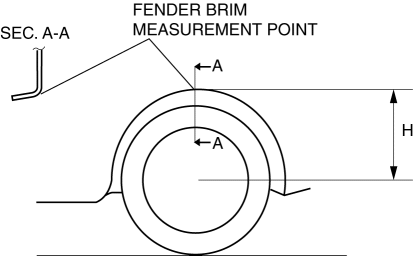 8. Verify that the difference between the left and right dimension H is within the specification.
Standard

10 mm {0.39 in} or less